Ratings
| | |
| --- | --- |
| Overall: | |
| Quality: | |
| Value for money: | |
| Fitness for purpose: | |
| Comfort: | |
| Support: | |
Overview
Price when purchased (October 2009): £139.99
Price now (March 2014): £150 - £220
The Raichle/Mammut MT Trail GTX is a 3-4 season all leather B1 rated mountain boot. To increase the walking comfort of this semi-rigid boot, Raichle have curved the sole slightly towards the front creating a feeling of being walked rather than walking. Especially over flat paths or the occasional stretch of tarmac this improves the walking quality immensely. Waterproofness is as one would expect from an all leather boot with the expected level of care having to be applied. The Vibram sole will initially seem slippery but quickly wear in as will the boot itself.
Experience
The boots referred to here were bought around 2009 and therefore before the takeover of Raichle by Mammut. Since then these boots have been my go to mountaineering and scrambling boots in all conditions the UK weather has been able to throw at me. They helped battle through waist deep snow in 2012 and covered many miles over the hills and moors. They have provided excellent support when introducing friends to scrambling and allowed me to feel comfortable, stable and supported. The slightly bent sole is incredibly comfortable and on many occasions has provided that little bit of forward propulsion to man up and carry on walking. During scrambling the Vibram sole comes into its own, providing security and safety even in otherwise slippery conditions. Much like climbing shoes having faith in the friction will help, as a half-hearted approach will result in the sole not gripping and the owner slipping. Despite being rated as a rigid sole boot, albeit for light walking crampons, the flex provided allows for natural walking as opposed to the ski-boot effect seen in some of the other rigid walking boots. On scree and grass slopes the ankle support makes these boots very comfortable especially when crossing them along contours. While walking in the summer the boot is breathable enough to keep feet dry while in winter a slightly thicker pair of socks is common sense and ensures the feet stay well tempered. Although for walkers with bad podiatric circulation these boots may be a bit too cold.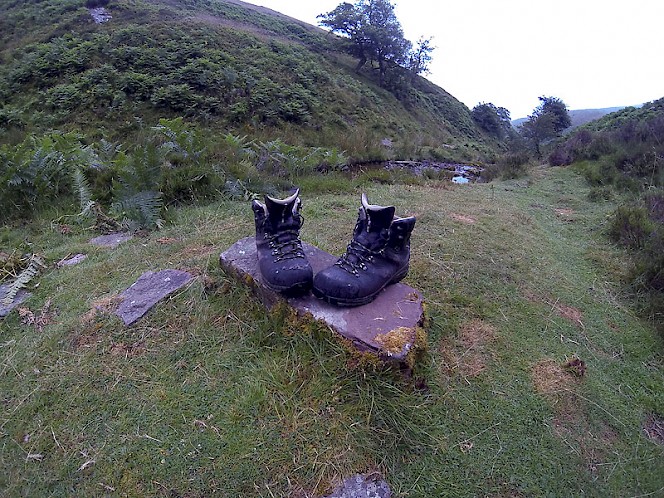 Care wise these boots are your traditional full leather boot and require the occasional tlc (thorough, loving care). A sturdy brush - preferably natural non plastic and most definitely not metal - , a soft cloth and some good old Nikwax Conditioner for Leather will meet most care needs for this boot. Should white mildew or worse, mould, occur on the boot's soft leather insets after leaving them in a damp bag for too long - personal experience - then a 1:1 mixture of white spirit vinegar and water applied with a cloth will work wonders.
The only downside to these boots, as with any other boot consisting of half a dead cow per foot, is their weight. This is particularly true when walking through the bogs of Dartmoor where the extra weight in the step causes the foot to sink in ever so slightly more than one would usually expect. But given the otherwise excellent comfort and support this is only a minor issue.
The Mammut/Raichle story
While the majority of reviews of the original Raichle MT Trail GTX boots mirror this one, the boot seems to have changed since Mammut took over. Complaints are mainly being made about the way the sole starts to detach itself from the boot after about 3-6 months of use. This appears to be a problem specific to the "new" Mammut version of the boot from around 2010 onwards and appears to happen regardless of whether the boots bear the Raichle or Mammut logo. Whether this was an isolated problem with a certain number of boots in production or an overall flaw is difficult to say. Also considering most customer reviews tend to either focus on the very good or very bad this development should be evaluated in balance.
Verdict
This boot has served me so well as an all-rounder that I would buy it again in a heartbeat despite the increased weight. However, due to the problems reported by the community I would ensure my new boots have the expected level of warranty in case the sole connection disintegrates. Overall this boot has been my steady companion for 5 years and unless I manage to lose it off the side of a mountain I doubt it won't be for the next 5 years to come.
All things considered 4/5 peaks for mine, 3.5/5 for the rebranded edition.