Ratings
| | |
| --- | --- |
| Overall: | |
| Quality: | |
| Value for money: | |
| Fitness for purpose: | |
| Comfort: | |
| Practicality: | |
Overview
Price when purchased (August 2014): £75.00
Price now (December 2015): £65.00 - £89.99
Designed as a winter and mountaineering harness the DMM Super Couloir can cope with almost anything from long days on ice to gnarly scrambles in the rain and glorious days on the glaciers. The "nappy-style" design allows the harness to be put on or removed without having to lift your legs, especially useful when wearing crampons, skis or muddy boots.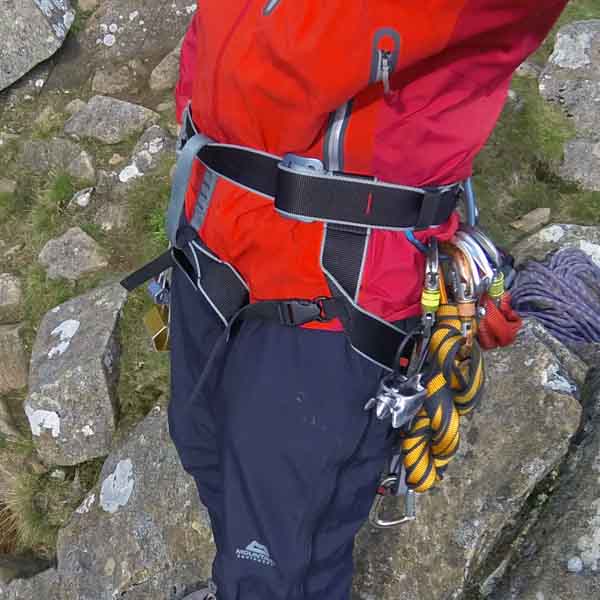 Despite the minimal padding the harness does not feel outright uncomfortable, unlike some of the other minimalist harnesses around and often used in centers. Despite the minimalist feel the Super Couloir is anything but spartan. 5 sturdy gear loops, a rated belay loop, ice screw racking strips, quick release buckles on the leg loops and a minimal profile to fit underneath your backpack make this harness one of the most thought through designs I have seen for such a broad range of uses.
Experience
As my experience of full on winter mountaineering is limited I bought this harness primarily as an ultra lightweight scrambling harness. Initially I was skeptical about the design and the levels of comfort it could possibly provide, but having sat and belayed on it a fair few times now I can safely say this purchase was one of my smarter ones. This harness is not designed to be worn by shirtless sport climbers on the limestone cliffs of the south on a hot summer day. Therefore anybody complaining that there is not enough padding to be comfortable simply doesn't understand the intended use. In winter climbing padding comes naturally from the clothing worn and even in scrambling I usually wear a few more layers than usual resulting in the harness being more comfortable than my trusty Petzl Corax on occasion.
Racking wise 5 gear loops provide me with all the space I need and more, while the quick release leg buckles enable full access to my pockets even while hanging. Being able to release the leg buckles securely while remaining tied in is also very liberating on a full day scrambling, especially if your lunch break is a small ledge somewhere on a dubious line.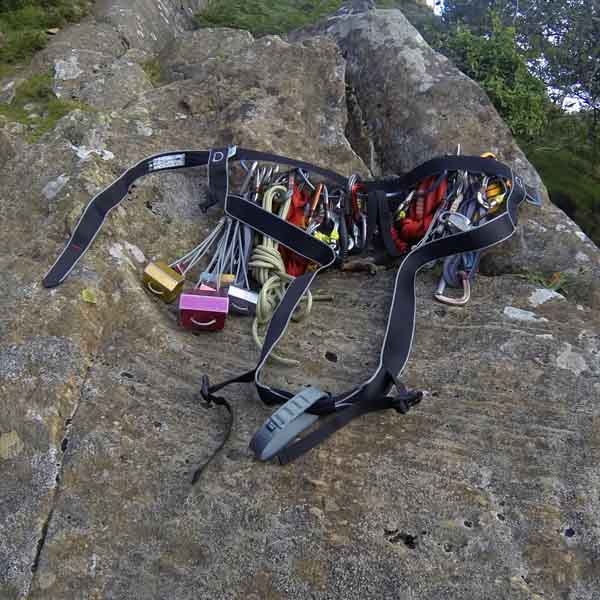 The racking loops are well positioned and easily accessed, even with a backpack on. Thanks to the nappy design the harness can quickly be put on even when fully racked without having to watch out for slings wrapping around legs or the awkwardness of adjusting clothing while pulling up a few kilos of gear. Especially those of us who are used to quick adjust buckles on our normal harnesses will rediscover the joys of the double back buckle and how easy it can be to get the harness to exactly where you want it.
Verdict
Together with my scrambling rack and a basic rope this harness lives in the boot of my car whenever the mountains call. Packed away in a small bag ready to be used, there simply is no excuse for not packing it. At 340g - 400g weight is no issue and the pack size - well that 240cm nylon sling you carry takes up more space than this. That said there are a couple of issues I have with the design, which DMM could think about. Firstly the leg buckles are plastic and don't really instill much confidence in me. Safety wise they are fine and there is no issue, but these plastic buckles have broken on me in other items so often, I just don't see them as durable. However, until now they have not shown any signs of wear or cracking with the harness, so I'm hopeful. Secondly it would be great to be able to secure the belay loop to the waist belt and prevent it from sliding. At the moment the waist loop simply passes through the belay loop, holding it in place. Again, safety wise this is perfectly fine, but I have noticed my jacket needing re-proofing more than with my other harness previously where the belay loop rubs as it moves side to side. To be fair to the makers though, both of these issues are me being pedantic and thinking more about my personal use as opposed to the intended use.